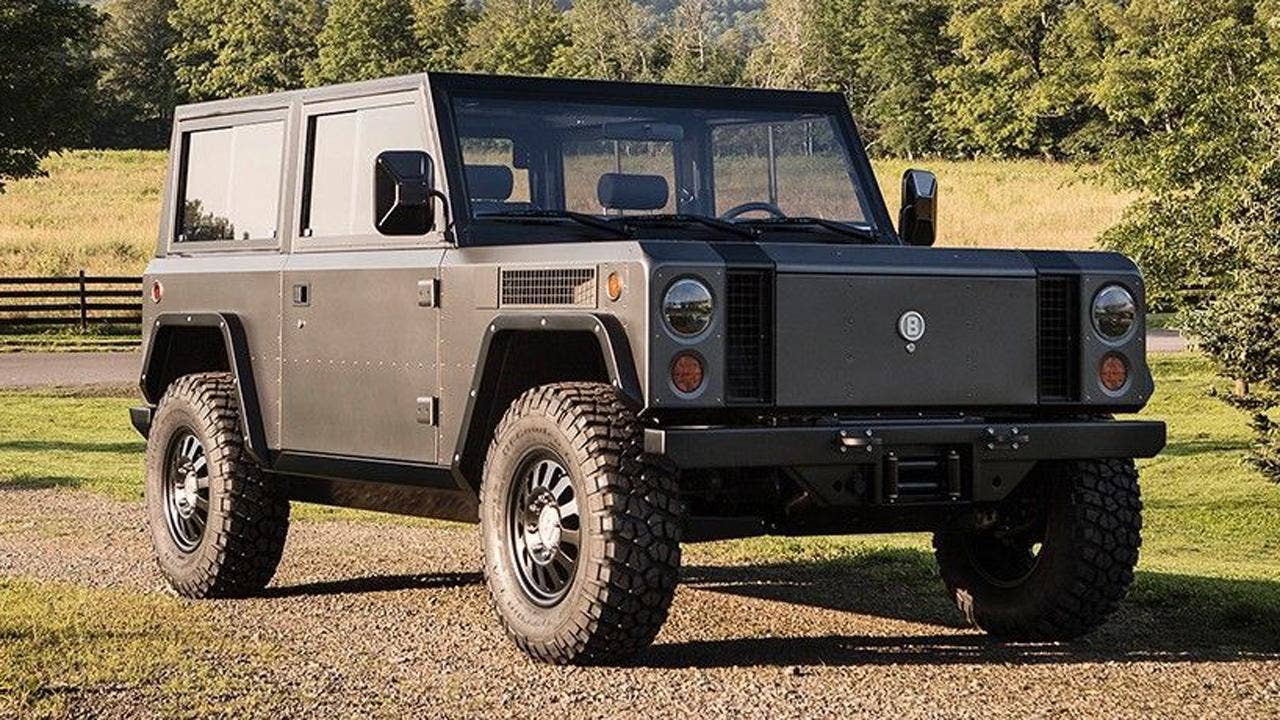 The Bollinger Motors B-1 may look like a design study for the next Ford Bronco or Land Rover Defender, but its more like a Tesla under its utilitarian skin.
The B-1 is a battery-powered take on the kind of bare bones truck nobody seems to make anymore, and was appropriately born on a farm in Hobart, New York.
Company founder Robert Bollinger was raising grass-fed cattle there and wasnt happy with the trucks he was driving. So he bought a garage that had gone out of business, dusted off his degree in industrial design from Carnegie Mellon and hired a diverse team of engineers to help him build something better for both work and play.
The result is an SUV thats about the size of the original Ford Bronco that has an aluminum chassis with a battery pack in the floor, two electric motors, and a steel roll cage. The body is aluminum too. Its all flat panels and hard angles with exposed hinges, rivets and bolts. Not because its still in development, but so that owners can fix and customize it them themselves.
They can also transform it from an SUV into a pickup by removing the back seats, the rear section of the roof and installing a wall between the bed and the cab.
The bed isnt that long, but its wide enough for a 4 x 8 sheet of plywood, and since theres no engine up front, theres a storage compartment under the hood and a full-length passage running down the middle of the B-1 that can accommodate boards up to 12-feet long without opening the tailgate.
Its an innovative design that takes full advantage of the skateboard-style architecture enabled by the electric powertrain, which allows for a flat bottom protected by a quarter-inch skid plate.
The centrally-mounted, liquid-cooled motors each have a two-speed gearbox with low range and feed their combined output of 360 hp and 472 lb-ft of torque to the wheels via geared axle hubs, also known as portal axles. This increases available ground clearance, which can be adjusted between 10 and 20 inches thanks to a hydropneumatic suspension system. The B-1s maximum approach, breakover and departure angles of 56, 33, and 53 degrees would make a mountain goat jealous, let alone a Jeep Wrangler.
Along with its purported off-road prowess, Bollinger says the B-1 can accelerate to 60 mph in 4.5 seconds, making it as quick as a Ford F-150 Raptor and many high performance SUVs. Its range between charges is estimated at either 120 or 200 miles, depending on if its equipped with a 60 kwh or 100 kwh battery pack.
The B-1 was engineered to haul or tow 6,100 pounds and has a gross vehicle weight rating of 10,001 pounds. That makes it a Class 3 truck, which means it doesn't need a lot of the costly safety equipment passenger cars do. A factor that helps clear its path to production.
Considering it came from a startup with about a dozen people working for it, the B-1 looked professionally-made and convincing in person at its unveiling in New York on Thursday, but theres still work to be done.
So far, Bollinger has largely funded the project with the proceeds he made from the multi-million sale of a skin care company, but hell be looking for additional partners to bring it to fruition. The plan is to work with existing contract manufacturers to kick off low volume production, which doesnt sound all that different than what Tesla was up to a decade ago. One thing's for certain: he won't build it anywhere but the USA.
While Tesla has promised to sell a pickup truck of its own in a couple of years, there really isnt anything like the B-1 on the market or the horizon. Bollingers initial target is to build about 5,000 to 10,000 trucks a year, with eyes on growing that number to 100,000. Hes confident production can begin within 18 months of finalizing financing and the manufacturing plan.
Pricing for the B-1 hasnt been set, but he says it will be competitive with a well-equipped SUV, and not necessarily a luxury one. Depending on volume, Bollinger is hopeful it will come in way under six figures. So figure on something in the $60,000 to $80,000 range.
Bollinger says hes dreamed about building a truck since he was a kid, and hes clearly a believer. Both in his creation and an electric vehicle future. Now he just has to find a few thousand people who feel the same.
Gary Gastelu is FoxNews.com's Automotive Editor.
Read more: http://www.foxnews.com/auto/2017/07/28/bollinger-motors-b-1-is-old-school-truck-with-high-tech-twist.html